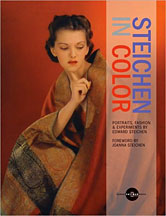 STEICHEN IN COLOR: PORTRAITS, FASHION & EXPERIMENTS BY EDWARD STEICHEN by STEICHEN, EDWARD;



List Price: HK$ 238.00





¡@ISBN
9781402760006
¡@Subject
ART, ARCHITECTURE, DESIGN & PHOTOGRAPHY
¡@Publisher
STERLING INNOVATION
¡@Publication
2010
¡@Edition
Hardcover
¡@Version
Original
¡@Description
Edward Steichen was one of the world's greatest photographers, celebrated for his black-and-white images-particularly his Family of Man exhibition. But he was also an innovator in color photography who created magnificent autochromes. This exceptional volume pays tribute to Steichen's rare and in some cases never-before-seen color work. This landmark publication showcases 48 eye-opening photographs, all gorgeously reproduced in a museum-quality monograph.